Establishing a strong foothold in the compact SUV segment is undeniably one of the most challenging tasks in today's automotive landscape.
Given the substantial annual sales of numerous vehicles in this continually expanding category, such as the Toyota RAV4, Honda CR-V, Chevy Equinox, and Hyundai Tucson, achieving prominence is a formidable undertaking.
An exemplar in this endeavor, consistently vying for prominent positions on the annual sales charts, is the Nissan Rogue. Having undergone a redesign in 2021 and experiencing minor updates for the 2023 iteration, Nissan's contribution to this category has been a delightful revelation for the company. Notably, the Rogue stands as the top-selling model within the brand's entire lineup.
FYI 2023 Nissan Rogue
Tested Price: $43,145 (base price approximately $28,000)
Highlight: Striking interior design, advanced technology and safety features, impressive fuel efficiency
Rating: 4 out of 5 stars
Ideal for: Families in search of a versatile and reasonably priced crossover.
LOOKS
When it comes to its exterior design, the 2023 Nissan Rogue stands out as one of the more stylish options among compact crossovers. It incorporates intriguing metallic accents along the vehicle's sides, crisp lines, and a subtly designed grille. While it may not be revolutionary in terms of aesthetics, it exudes a pleasant presence in your driveway, and you'll certainly enjoy the panoramic sunroof during sunny days.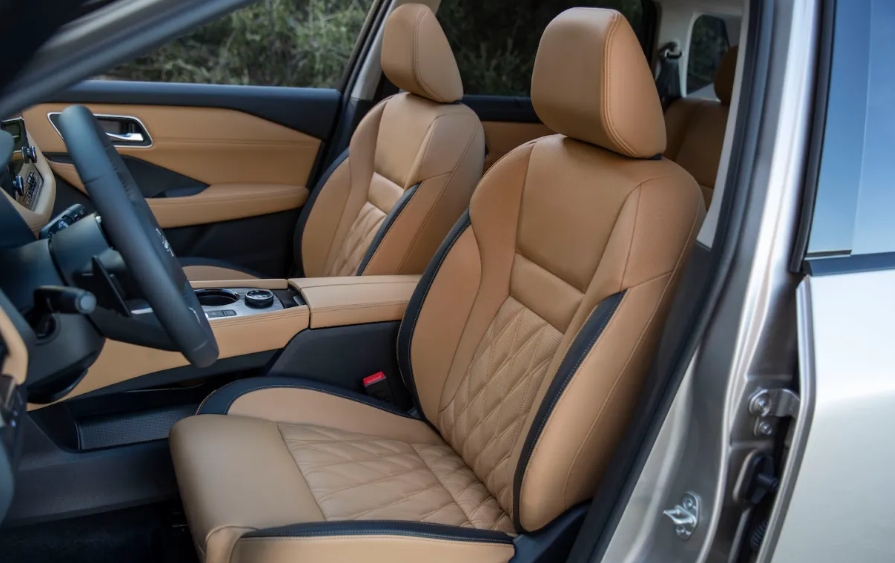 The exterior of the vehicle 19-inch alloy wheels (while the base model begins with 17-inch wheels), along with LED lighting, roof rails, and power-heated exterior mirrors. Transitioning to the interior of the Rogue, you'll encounter a robust, sophisticated setup in comparison to other non-luxury SUVs, particularly when selecting the Platinum trim level.
The quilted, semi-aniline leather-appointed seats stand out as some of the most attractive and comfortable options within the segment. Additionally, you'll come across a heated and leather-wrapped steering wheel, heated front seats, and a wireless phone charging feature. The exquisite tan-colored leather upholstery, coupled with appealing wood accents, elevates the upper trim levels to a realm akin to Infiniti models.
The inclusion of dual-zone temperature control and second-row door sunshades enhances the offerings. Additionally, there's an option for interior accent lighting, and should you choose the Platinum Premium package, you'll benefit from tri-zone temperature control and heated rear seats.
Every one of the 5 passengers will discover ample legroom and headroom for a comfortable experience, while the cargo space measurements are well-suited for the segment (36.5 cubic feet with the seats up, and 74.1 cubic feet when the rear seats are folded down).
Furthermore, there's an additional concealed storage compartment beneath the dashboard, and the front-mounted wireless phone charger serves as a practical feature for charging on the go.
HOW'S THE RIDE?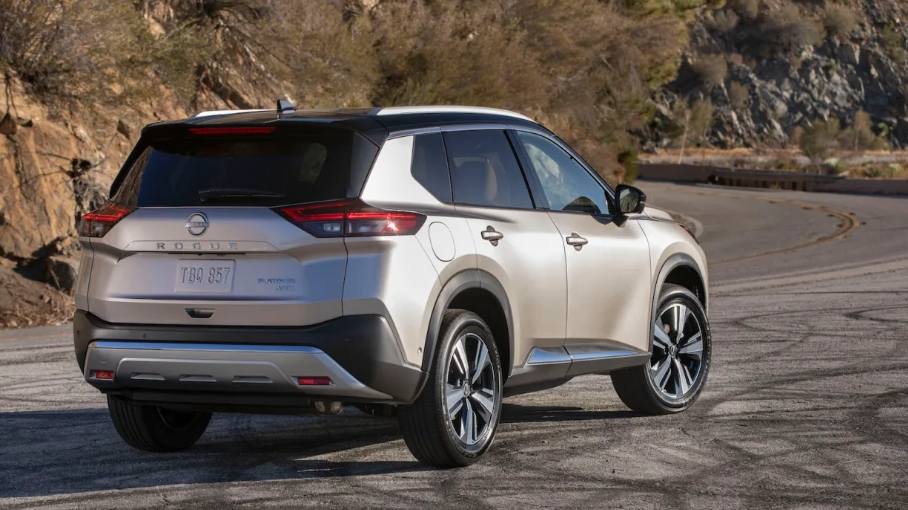 In a slightly unconventional approach, the 2023 Nissan Rogue is equipped with a turbocharged 1.5-liter three-cylinder engine. This engine is mated to a CVT transmission and generates 201 horsepower and 225 pound-feet of torque. The model came with all-wheel drive, although the Rogue is also offered with front-wheel drive.
Although it might not boast the most potent engine within its segment, the turbocharged three-cylinder engine exceeded my expectations in terms of performance. Its 0-to-60 acceleration clocks in at under 8 seconds, and it maintains a satisfying pace. The vehicle's handling and overall driving experience exhibit notable prowess, and the brakes demonstrate prompt responsiveness.
However, it's important to manage your expectations – you won't be winning any races or experiencing a sports car sensation with this vehicle.
TECHNOLOGY, SAFETY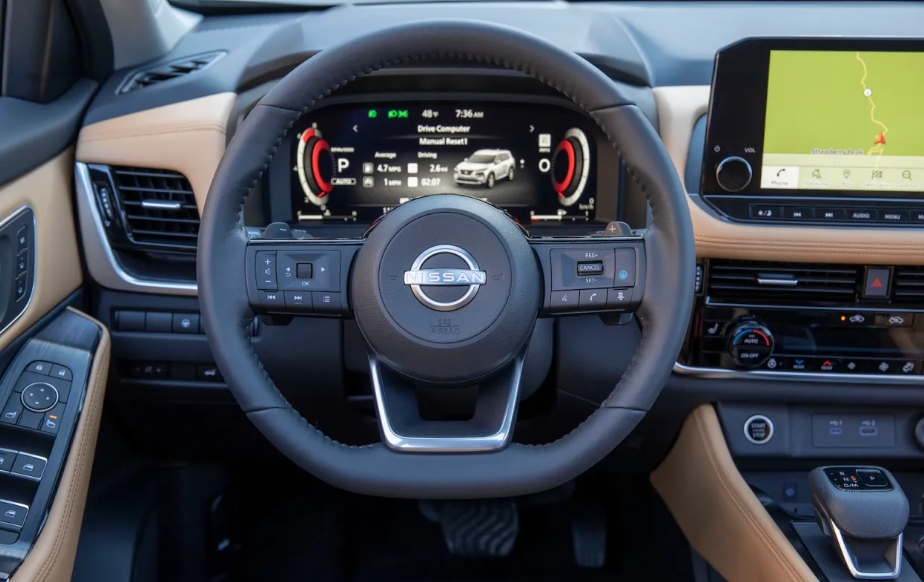 Nissan has focused its infotainment system on a 9-inch color touchscreen display, complemented by voice commands that cover all essential functions.
During time driving the Rogue, that voice commands for phone, music, and navigation functioned exceptionally well. The on-screen prompts were helpful, even providing guidance on how to formulate commands.
Mastering all touch controls, including the 9-inch touchscreen alongside integrated buttons and dials, is a straightforward process. Additionally, the optional Bose premium audio system delivers remarkable sound quality.
Every Rogue model supports Apple CarPlay and Android Auto, allowing for seamless phone mirroring. It also provides features like satellite radio, a Wi-Fi hotspot, and a 12-inch digital dashboard.
Nissan also excels in its safety provisions, beginning with its 5-star overall government safety rating. The extensive array of safety systems competes admirably with the top vehicles in the segment.
A particularly notable feature is the head-up display, which proves highly useful by keeping the driver's focus on the road while displaying speed and the current speed limit. The high-definition Around View Monitor greatly assists in parking scenarios, providing a comprehensive view of the vehicle's surroundings.
Additional features encompass a comprehensive range of airbags, LATCH anchors for securing child seats, Automatic Emergency Braking with Pedestrian Detection, Rear Cross Traffic Alert, Blind Spot Warning, Lane Departure Warning, and Rear Automatic Braking. For those inclined to relinquish control momentarily, the option of ProPILOT Assist is available, providing limited self-driving capabilities.
MPG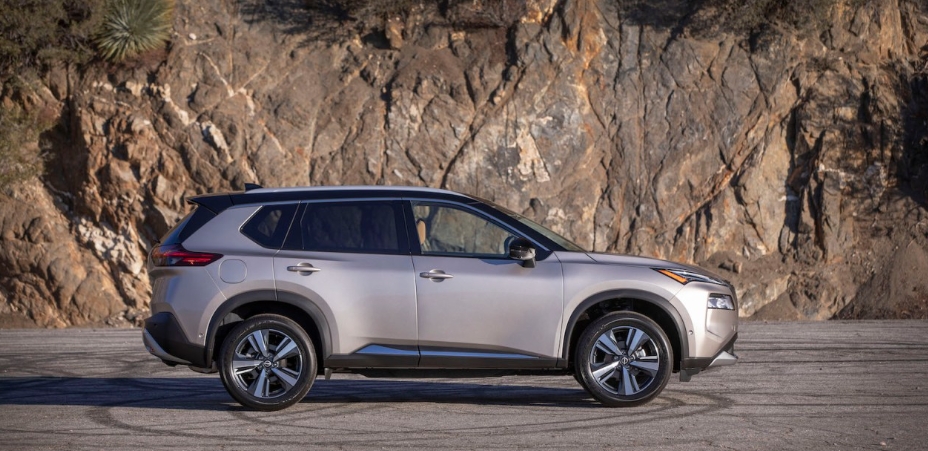 Regarding fuel efficiency, the official figures for the AWD version of the Rogue stand at 28 city/34 highway/31 combined. Testing validated these statistics, with my average ranging between 26 to 33 mpg, contingent on my driving style.
The front-wheel drive editions of the Rogue yield even more impressive fuel efficiency, boasting figures as noteworthy as 30 city/37 highway/33 combined. These statistics surpass the norm within the segment, where robust fuel economy can significantly influence the choices of prospective buyers.
PRICE
The 2023 Nissan Rogue examined carried a price tag slightly exceeding $43,000, with the base model commencing around $28,000. The available trim levels encompass S, SV, SL, and Platinum.
Commencing at just under $30,000, this aligns with the pricing of many competitors in the compact crossover segment. However, it's important to note that costs can escalate rapidly when opting for top-tier trims. It's advisable to assess the essential features you require and establish your budget accordingly; considering lower trim levels might be a prudent approach to remain within your financial constraints.
Nissan's vehicle warranties are satisfactory, though they don't match up to those offered by leading competitors in the segment. A limited warranty extends over three years or 36,000 miles, and the powertrain warranty covers five years or 60,000 miles. Unlike certain rival automakers, there is no provision for complimentary maintenance.
BOTTOM LINE
The 2023 Nissan Rogue provides a spacious and refined interior, impressive technology and safety features, commendable driving experience, and competitive pricing along with good fuel efficiency. Although it doesn't excel in any specific category, it delivers a well-rounded package that appeals to compact crossover shoppers.